The cooler weather saw a slightly smaller June meeting of 89 members, with five visitors. Can Do Books was the shop this month, and provided a very interesting range of books for members to view.
Leslie (aided by Siska) told us about some of her Capetown experiences with the group, particularly sharing some of her fabric purchases and stories and photos of the quilts created from the Australian blocks.  Check out Leslie's report on this website for more details and some terrific photos. ->> Quilting fun in Cape Town
Margaret Mew addressed the meeting and showed us some of the wonderful quilts created for her book "Quilts from the Colonies". I will just show one quilt here, as the photos are a wonderful feature of the book. If you were unable to attend the June meeting, the Guild purchased a copy of the book for our library. You can look at the wonderful quilts and read about their story at your leisure.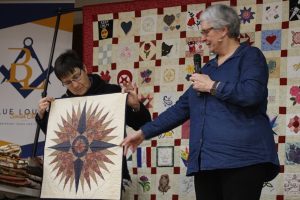 Sincere thanks and congratulations were offered to the committee who worked so effectively to prepare for the 40th birthday celebrations and the two 40 year members present received their 40 year service badges.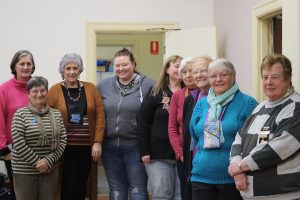 Members continue to create a wonderful range of quilts for Caring and Sharing. Thanks to all members who contribute in whatever way they do to this great cause.
The meeting concluded with the traditional display of members work.  Some of these special quilts are shown in the gallery below.
Remember the July meeting features The Big Morning Tea.  I look forward to seeing you there.
Kerry Canty