Are you interested in quilting, be it traditional or contemporary? Why not join us at a monthly meeting?
Visitors are always welcome...
Why join a Quilt Guild?
Find out about the many advantages of becoming a member of an active Quilt Guild.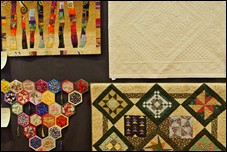 The Biennial Quilt Exhibition is a highlight, a chance to exhibit our members' work.
View a selection of quilts from the Dec 2013 Exhibition.
Sunday 24th April was our first Tutor of Note for the year, "The Twisted Log Cabin" with Therese Hylton. What a good day we all had. Therese was a great teacher, with clear instructions and along with her daughter willing to give us all the help we needed. It was good... read more
---
For those of you who have a stash of scraps and would like to put them to use in a collage, Susan Carlson has some great ideas for you. She calls it a "no rules" approach to collage.
read more
When I picked up this book, I felt I had found a kindred spirit in Shirley. I too, spent time in Japan looking down. The manhole covers in different countries provide a wealth of design potential.
read more
Join us at our monthly meetings
New members with new ideas always enhance our Quilt Guild
Meeting information..